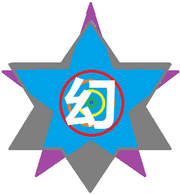 Phantom Summit (ファントムサミット) are the antagonist organization set to appear in Inazuma Eleven: Shadow Revival. They are in Fanfic that User:ShadowX13 created.
Information
Edit
5 years after Inazuma Japan won the FFI, Shinobi Imaji created the Phantom Summit. In his words, it is an organization to abolish soccer that has taken the world by storm. They send out Soldiers who are trained for any circumstance. Their only objective is to destroy. So Shinobi sent them out to destroy cities and areas with the stongest soccer teams. Their first target is Kyoto. After they destroyed Kyoto, Shinobi created a team to destroy Raimon. They are known as the Kyoto Killers
The 幻 on the logo is another way of saying Phantom. It says Maboroshi.