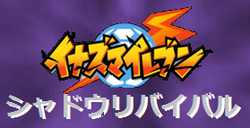 Inazuma Eleven: Shadow Revival is a series set 5 years after the FFI but in a parallel world. It is a Fanfic created by ShadowX13
5 years after Inazuma Japan won the FFI, a mysterious dark aura surrounds Japan. People shun away soccer, saying it is bad yet Endou Mamoru doesn't understand a thing. One day he was in a match for a Pro Japan team, the next day soccer is looked down upon and not played.
Endou goes back to Raimon to see if anyone there knows about what is happening but to his surprise...Raimon isn't there! Endou wonders to himself, he was sure that Raimon was here...until a mysterious shadow shouted Raimon wa sonzai shimasen! (Raimon never existed!). Now he knows something is up..but Endou doesn't know what lays ahead for him.
Now, it is up to Endou to figure things out and re-create the Inazuma Eleven! Sakka Yaroze!
Characters
Edit
Only a few characters have been revealed
001 - Trouble in Kyoto?!
002 - Mysterious Blaze! Rival Appears!
003 - Intensive Heat Battle! Endou VS Saiyukara!
"Keshins" are a new feature shown in the anime. It is the "avatar" of the person and is used in various matches in Keshin Battle.